Today we have a special treat! A personal message from the queen of felted eyeballs herself, Jacey of Insubordinate!





Jacey is one cool spinning mama!





You can check out her wares here.

And now - on to the message!




Howdy Hi! I'm here, knee deep in felted eyeballs and carded batts, tick-tocking the days down 'till Sheep and Wool. Yep. I can't wait. This will be my first time having my yarn for sale at Maryland Sheep and Wool. In fact, this will be the first time my yarn will be for sale at any event as I usually can't build up enough of a surplus stock but I'm being miserly and really saving stuff back, by the time the actual day rolls around, I should have a mangle of Monster hat knit kits, a gory gob of Vitreous Humor eyeball yarn, and a stack of one-of-a-kind art yarns. I may even have a few fabulous new kits... But forget about me for a minute, what I'm really excited about is all the other fiber and fiber workers that will flank me on both sides! How awesome is this booth going to be? I predict maximum awesome-ness! Really, I get giddy just thinking of the handpainted sock yarn, the kettle dyed worsted, the fiber that's simmered and soaked to perfection, the sassy stitchmarkers.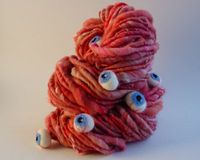 Mama-E's gonna be there! Gawd, I love her! She's the coolest! and Loop! I fully expect to look into her eyes and see cold, dead, black pools gazing back, after all, selling her soul is the only way I can figure she could get such fantastic batts! And and and...everyone! I'm excited about everyone, but especially you! I'll be in the booth on Saturday afternoon, and if you keep an eye out you'll see my he-man partner, a strapping, bearded, tattooed rocker with a quick wit and rippling musculature, my young son, a tow-headed boy genius with an iron will and the face of a dewy baby fairy, and my sweet one-year old girl whose smile can light your heart even as her new teeth draw blood. Be sure to stop by and gimme a good pinch on the bum, or you know, go the more traditional route of saying hi.